Services
Business Process Management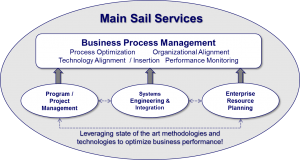 At Main Sail, our Business Process Management team improves visibility into a company's overall performance, facilitates elimination of waste, reduces variability, improves delivery, assures compliance with regulations and reduces customer order delivery lead time.
What is BPM?
BPM refers to a set of activities an organization implements to optimize its processes, thereby improving business performance.
A management approach focused on aligning all aspects of an organization, both human and technological, with the wants and needs of clients.
A systematic approach to improving an organization's business processes. Attempts to improve processes continuously, supported / enabled through technology.
Examples Of Our Work In Business Process Management
US Navy Fleet Readiness Enterprise (FRE)
TSA Worker Identification Credential Program (TWIC)
U.S. Customs and Border Protection (ACE)
US Navy ERP Single Supply Solution (SSS)
US Navy Ship Management and Logistics Support Information Systems (SMLIS)
TSA Establishment Of Regional Enrollment Centers Nationwide and Overseas (TWIC)
US Navy Financial Management (FIP)
Department Of Defense – Financial Process Transformation Support
US Navy ERP Financial Process Improvement and Audit Readiness